It's 2015, the height of the digital age. Everyone isturning to the internet to buy things nowadays. In the early days of the internet online purchases may have been limited to clothing items or electronics or other more luxurious products that people were hoping to get a better deal on. Now it seems like there are very few items people aren't buying online. People aren't even just buying items for themselves, either. They are also beginning to buy more and more items for their furry friends, including cat supplies, online. However, cat owners should be extra cautious of purchasing cat supplies online. Here are three tips for purchasing cat supplies online.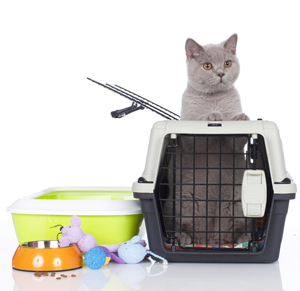 Check with your vet before buying prescription medications online. There are many online retailers that will offer your cat's prescriptions at a discounted price. However, buying prescription medications online without checking with your veterinarian first may not be very safe. Never purchase prescription medications for your cat without consulting with your vet first. This will ensure you have the right prescription- drug, strength and dosage. If you're having trouble affording your cat's prescriptions, there are medication discount plans or pet insurance plans available to help lower the cost.
Only buy from a trusted seller. You wouldn't buy a luxurious watch from an online retailer that looked sketchy or had negative online reviews, would you? Why should your cat be any different? Before you purchase your cat supplies online make sure the company is legitimate. Check their website to learn more about the company's history. Make sure they are an active supplier. Check for recent blog posts, social media activity, and other hints that will let you know they are still operating and will be able to send you your items immediately. Also, look for client reviews, testimonials, and feedback so you can ensure the business is safe to buy from and that they offer only the highest quality products.
Gather all necessary information before you make your purchase. Before you make your purchase make sure you have all the necessary information you may need. You might want to measure or weigh your cat. For example, if you are planning to buy a collar or even a sweater to keep your cat warm in the winter than you'll want to know your cat's measurements so you know which size to get. Also, knowing your cat's weight can help you when purchasing food or vitamins. This will help to ensure you purchase food vitamins, and medications that your cat's stomach can process it comfortably and that they are getting the proper nutrients that their body needs to stay strong and healthy.
These three tips will help ensure you always buy high-quality, safe products for your favorite feline friend. Remember, when you buy from Vet Supply Source you'll always end up with great, safe products at the lowest possible prices. Plus, shipping is now 50% off with auto-shipping available upon request!